Moisson Montréal increased the amount of fruits and vegetables distributed by 45% compared to the pre-pandemic period. This meteoric rise is due principally to our technological infrastructure which allow us to process and distribute produce in greater quantities.
It is for good reason that Moisson Montréal has the largest preparation and bagging center for unprocessed fruits and vegetables in Eastern Canada. Our facilities can accept surplus fruits and vegetables from producers and processors in quantities unprecedented in the sector. These products are then redistributed to organizations that feed individuals and families in need.
To witness how this technology serves our organizations, we invite you to check out our processing line.
Volunteer on the bagging line

Crusher for fragmenting frozen fruits and vegetables
Fruits and vegetables often arrive frozen and in very large quantities. In order to break up the frozen blocks, we have a machine equipped with large knives that separates the blocks and fragments them. The produce is then sent to the bagging lin
 Crusher in activity
Bagging line
This automated line allows us to pack smaller quantities of fruits and vegetables (frozen or fresh) so that we can distribute them to our 300 organizations. It can process 1,000 kilograms per hour thanks to our volunteers who operate the line.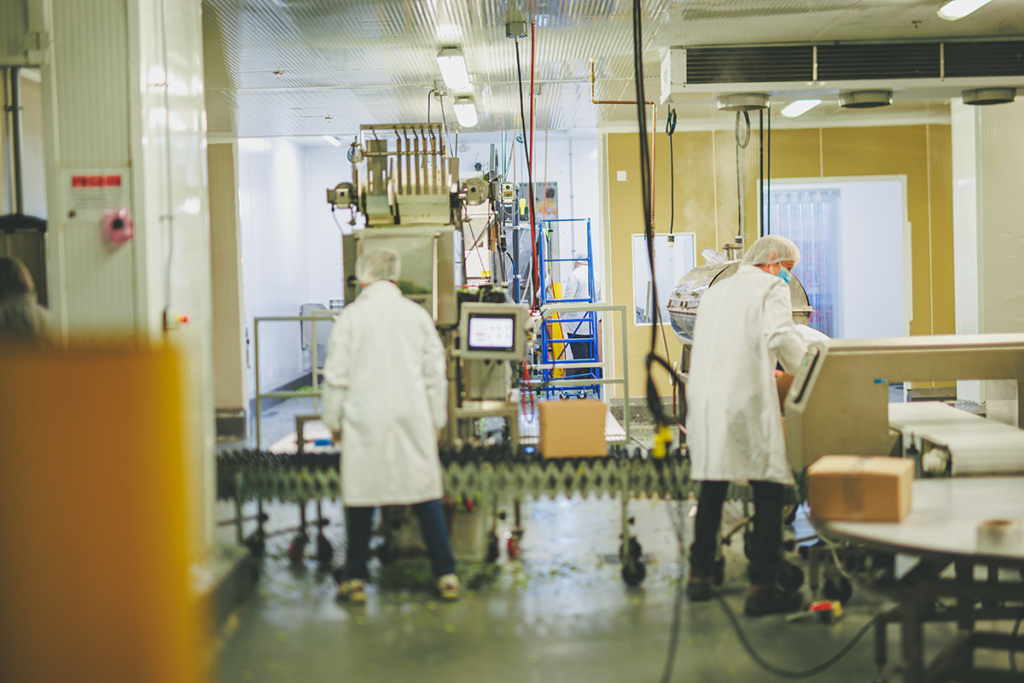 Bagging line
Other machinery
In addition to bagging and crushing, we have our bio-food sanitation line which extends the shelf life of fruits and vegetables and avoids having to compost them once in the warehouse. We are also able to blanch fruits and vegetables as soon as they are received.
Tomato sanitization