The Great Food Drive for Children
From April 1 to April 30, 2018, the 7th edition of the Great Food Drive for Children will take place.
Knowing that foodstuffs for children from 0 to 5 years old are very hard to come by and that needs are rising, Moisson Montréal, Moisson Rive-Sud and Moisson Estrie will hold The Great Food Drive for Children again this year. This fundraising campaign aims to collect monetary donations. It also aims to raise public awareness and inform them about food insecurity consequences on babies and toddlers. Close to 20 000 chlidren between 0 to 5 years are affected by this problem in Montreal, South Shore and Eastern Townships. The three Moisson are fighting together against food insecurity
During the campaign, a multitude of activities will take place:
April 7th: Children's Day
This year again, Children's Day private event will be held at Montreal Museum of Fine Arts and will welcome families helped by community organizations that have programs designed to help families with young children between 0 and 5 years.
Many activities will take place, more details to come.
From April 16th to 23rd : Auction RENDEZVOUS  With a Chef 
For the 7th anniversary of The Great Food Drive for Children, Moisson Montréal, Moisson Rive-Sud and Moisson Estrie partnered with 5 Montreal chefs, who have each offered a dinner for your guests and you. The auction will take place entirely online and will be open to the public. The chefs will be up for auction on Monday, April 16th at 8:00 am; which means that the public will have until noon on Monday, April 23rd to make their bids.
To win: A dinner for your guests and you prepared by one of six celebrity chefs:
Jérôme Ferrer (Executive chef & President of the Group Europea)
Eastern Townships, Jean-Patrice Fournier (Executive chef and owner of the restaurant Le Poivron Rouge Inc.)
Eric Gonzalez (Executive chef at L'Atelier de Joël Robuchon of Montreal)
Anthony Joyce (Executive chef at Verses)
South Shore, Jean-François Méthot (Executive chef atL'Hôtel Rive Gauche)
April, 30th : Benefit dinner at the renowned Pastaga restaurant
Rendez-vous in the heart of Little Italy at the Pastaga restaurant owned by chef Martin Juneau and his partner Louis-Philippe Breton. Renowed as one of the best Quebec restaurants in Montreal, let yourself enjoy a delicate and refined menu to the benefit of the food banks. This benefit diner is a unique opportunity to share moments of complicity for the good cause.
Discover the menu !
Our campaign partners :
If you wish to make a donation, click here
To make a donation by phone, contact : Serena Hernandez at 514 344-4494, ext 222
For more information regarding sponsorship and partners, contact Émilie Lamoureux elamoureux@moissonmontreal.org
For more information regarding media, contact Meriam Azzouzi:
mazzouzi@moissonmontreal.org,  514 935 2777 ext 212
Feeding the Holiday Spirit

Once again, Moisson Montréal launches its annual "Feeding the Holiday Spirit" campaign, to run from November 6th until December 24th, 2017.
Moisson Montréal invites everyone to give generously during the Holiday season, typically its busiest time of year, whether through donations of cash or food, so that holiday baskets can be made and distributed to Montrealers in need.
In 2016, 278 businesses and individuals helped us amass 27,000 kg. of food, as well as the sum of $44,000 earmarked for the purchase of food products to fill holiday baskets. These donations helped the organization accumulate sufficient food to enable it to prepare 20,000 holiday baskets of 16 food items each, 6,800 emergency food bags, 10,000 snack bags, and 3,024 turkeys (donated by the Marcelle and Jean Coutu Foundation) to offer 35,000 traditional holiday meals, as well as to provide emergency food assistance to our beneficiary organizations during the Holiday period.
Campaign Activities:
Organize a fundraiser or food drive in your business or organization.
Choose a "Recette en Pot" gift.
Dine in a restaurant participating in our Generous Gourmet initiative
Become a campaign partner.
For more information on the campaign, click here.
To make a monetary donation, click below:
We would like to give particular thanks to Prével (Bassins du Havre),
CRE-O-PACK Packaging International Inc., RBC Credit Adjudication Centre, Allstate Social Fund, the Casino de Montréal and the Groupe Dicom Transport Canada for their support.
Hungry for Vacation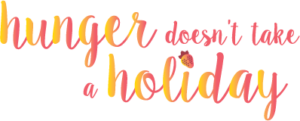 At this time of year, one dedicated to rest and festivities, Moisson Montréal would like to remind everyone that hunger doesn't take a vacation for many people. That's why we are launching the summer campaign Hungry for Vacation for the third year in a row.
With your support, you can help us meet their needs!
During the summer, many families on the island of Montreal suddenly have fewer food resources available to them because they can no longer benefit from school food aid or various programs that suspend their activities during the summer season. Moisson Montreal's accredited partners see the demand for their support increase, and so our reserves empty quickly.
To meet the demand, Moisson Montreal aims to raise $60,000 to help underprivileged families to get the food they need during the summer. We also hope to raise awareness about this little known problem which affects families in all parts of the island of Montreal.
At the same time, Moisson Montréal is mobilizing to provide snacks or lunches during 8 weeks to 11 summer camps located in disadvantaged areas of Montreal. This program will positively impact 1006 children every day.
TOGETHER, LET'S MAKE A DIFFERENCE!
CAMPAIGN DETAILS:
From July 9th to August 11th, contribute in different ways to Hunger for Vacation:
Donate via www.noholidayforhunger.com
Participate in Texting Tuesday on July 24th by texting MOISSON at 20222 and make a $10 donation (but you don't have to wait, you can text us anytime!)
Rendez-vous at La Ronde on July 24th and 25th and make a $15 donation or donate 6 non-perishable goods to get a daily admission for $25 plus taxes. Don't miss this event and bring your friends and family!
Our mission does not consist solely of collecting and distributing foodstuffs. In fact, we also carry out different types of food support projects. Various large-scale innovative projects are being developed to ensure better accessibility, quality and variety of food for the less fortunate population of Montreal.
Food Recovery Program in Supermarkets
In collaboration with the Marcelle and Jean Coutu Foundation
The Food Recovery Program in Supermarkets (FRPS) was created in October 2013. It is the first of its kind in Canada and offers a unique and sustainable solution to the problem of food insecurity and waste. Moisson Montréal has reached a province-wide agreement with the Metro, Super C, Provigo and Maxi grocery stores to recover of unsold foodstuffs, which will then be distributed to community organizations. Moisson Montréal will recover unsold foodstuffs that are still safe for consumption from supermarket partners.
There are five categories of foodstuffs recovered:
Meat and meat substitutes
Baked goods
Varied products
Frozen products
Fruits and vegetables
Why create this program?
Moisson Montréal is constantly seeking innovative and sustainable solutions to the problem of food insecurity and waste. We thus seized on this opportunity to offer our accredited organizations better services and to reduce food waste, including the pollution related to waste management. In addition, FRPS also generates cost savings for our organizations and supermarkets. Meat represented less than 1% of the foodstuffs that we distributed; yet, it is the item most sought by our organizations. Meat is a very costly food item and thus, less available to individuals with lower incomes.
Our major partner: Marcelle and Jean Coutu Foundation
The Foundation has become a major partner of the Food Recovery Program in Supermarkets in 2016 by donating $1.5 million, which will finance the program through to 2018. With this donation, the Foundation, which has contributed more than $3 million to our organization since 1991, will cover costs associated with training personnel, purchasing and maintaining refrigerated vehicles, buying freezers, building a test laboratory, hiring new drivers and more.
To access the most recent data on our Food Recovery Program in Supermarkets, click here.
Feeding Our Future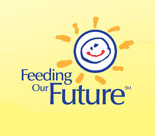 In spite of studies on delays in growth, of the increased risks of illness and of underachievement at school caused by hunger, there are still over 2 million children in Canada suffering from undernourishment. An estimated 5.5 million Canadians are at risk of famine and 40% of children rely on food banks in Canada.
To help alleviate this problem, Sodexo established the Feeding Our Future program. Funded by the Sodexo Foundation, Feeding Our Future donates the necessary food and labour to provide summer lunches to children who are given subsidised meals during the school year. Moisson Montréal is proud to participate in this program since 2001. We provide and deliver close to 39,000 lunches to  916 young children from 12 day camps supported by our accredited community organizations. Moisson Montréal wishes to thank d'Olymel, the program main sponsor.
Pool resources of community organizations for group purchases
RAOC member organizations served by Moisson Montréal benefit from a co-op structure for the purchase of foodstuffs to add to their supply. United as one, these organizations will see their purchasing power increase and will achieve significant savings.
Fight Hunger Day
On October 8th 2015, we received hundreds of our partners at Centre St-Pierre à Montréal. Addressing the partner organizations of Moisson Montréal, this day  was created to encourage meetings and discussions between organizations having food security of citizens at heart.
This day of reflexion allowed participants to attend conferences, panels and workshops on various topics and issues relatind to food aid and food security in an urban context.
t