Feeding Our Future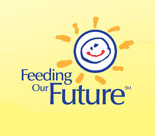 In spite of studies on delays in growth, of the increased risks of illness and of underachievement at school caused by hunger, there are still over 2 million children in Canada suffering from undernourishment. An estimated 5.5 million Canadians are at risk of famine and 40% of children rely on food banks in Canada.
To help alleviate this problem, Sodexo established the Feeding Our Future program. Funded by the Sodexo Foundation, Feeding Our Future donates the necessary food and labour to provide summer lunches to children who are given subsidised meals during the school year. Moisson Montréal is proud to participate in this program since 2001. We provide and deliver 40,000 lunches to over 1,200 young children from 13 day camps supported by our accredited community organizations.
Fight Against Hunger Day
On October 3, 2013, we welcomed a hundred of our partners at Centre St-Pierre in Montreal. Open to all of Moisson Montréal's partner organizations, this day was created to encourage exchange and discussions between people who work wholeheartedly towards establishing food security in their community.
This event gives participants the opportunity to take part in conferences, panels and workshops on various themes and issues related to food aid and food security in an urban context.