To learn more about Moisson Montréal's mission, evolution and efforts, we invite you to read the following annual reports.
2015-2016 Annual Report highlights:
254 community organizations across the Island of Montreal benefited from our services on a regular basis (an additional 53 received occasional assistance);
According to the 2016 Hunger Count, 137,000 people received food aid each month through partner organizations, including 45,000 children;
More than 14.2 million kilos of foodstuffs and other essential items were distributed, representing a total value of $81.5 million;
Of 14.2 million kilos of foodstuffs, 1,659 tons of food, including 738 tons of meat, were recovered thanks to our Food Recovery Program with Supermarkets;
304 agri-food businesses donated foodstuffs, including 113 supermarkets;
Nearly 8,900 volunteers put in more than 85,700 hours to help us deliver our mission; their crucial support represents the work of 47 full-time employees.
Read the complete Annual Report here.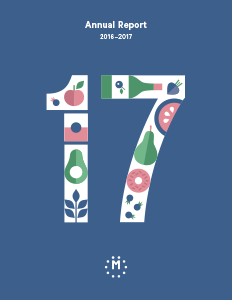 Consult our archives
2016-2017 Annual Report
2015-2016 Annual Report
2014-2015 Annual Report
Annual Report 2013-2014
Annual Report 2012-2013
Annual Report 2011-2012
Annual Report 2010-2011
Annual report 2009-2010